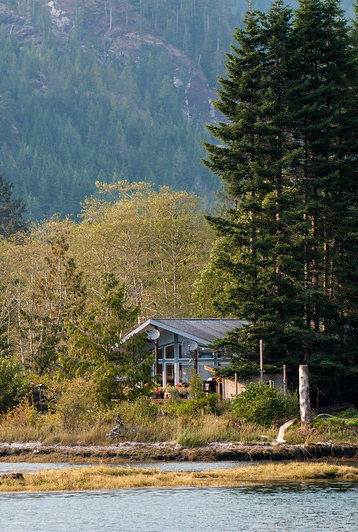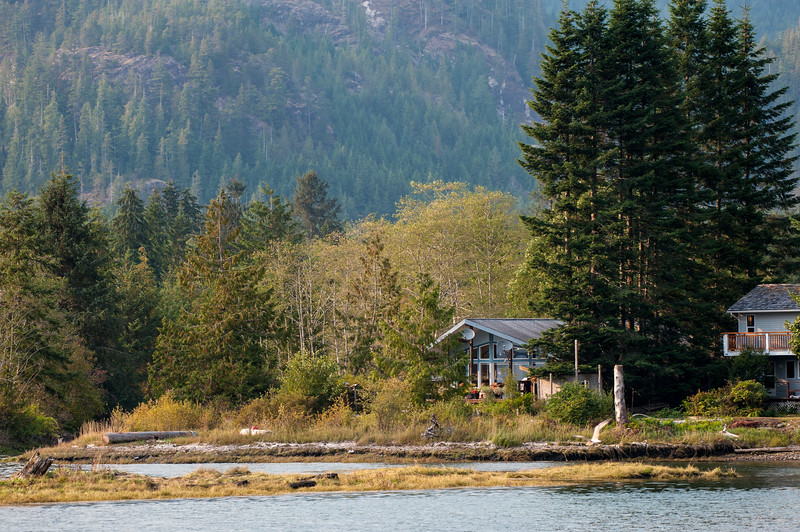 Come and lose yourself off the wild coast of the Pacific Ocean and build your own Adventure Calendar!
Zeballos Ocean Front Lodge is our way of breathing life back to those who seek refuge from our demanding day to day responsibilities. Our goal is to reconnect people with nature and immerse oneself in the beauty that surrounds us. It is time to step away and get nature-inspired!
Family and/or Friend Groups – A dose of wilderness does the body good! Come and bring your family/friends closer together by escaping the city and customize your own adventure-vacation. Do you prefer adrenaline-filled activities or prefer a tranquil spot to read a book? We can tailor your trip to suit group and individual needs.
Corporate/ Work Teams – With the scare of viruses and office pressures, business colleagues are now more than ever looking for a safe environment to provide team building adventures. Give your team the oasis of a remote private retreat and help them find reconnection and inspiration through the Zeballos Ocean Front Lodge. Tell us what you need and let's make it happen.
Couples – Lets admit it, there is something so intimate and raw when surrounded by sea and mountains. The mystery and beauty of our wilderness provides the perfect setting to unplug and reconnect from our everyday stressors. Pick your activities as a couple and perhaps add on a romantic and private lunch escape or 2… rest and relax await.
It is time to get off grid and reconnect with nature and yourselves! Enjoy world class outdoor adventures, 5-star food and service in a safe and comfortable West Coast environment.
Experience the breathtaking scenery and wildlife that Vancouver Islands West Coast has to offer.
Enjoy a private Marine Safari of Esperanza and Nootka Sound with family, friends, or colleagues in calm protected waters. While on your excursion whether it is a half day or full day, you have the opportunity to view humpback and grey whales, sea otters, bald eagles, seals, sea lions, wolves, and black bears. We do see Orcas, also known as Bigg's or killer whales, however only a handful of times each season.
Troll the fjord edges for Coho and Chinook salmon or drop a jig to the bottom to see what species of cod or rock fish are around. Learn the basics of saltwater fishing on the west coast. Catch and release of all species is not required, however it is encouraged by our team. This is a great learning experience for a young family or for anyone who wants to enjoy the wild west coast in a serene atmosphere.
Experience the breathtaking scenery and wildlife that Vancouver Islands West Coast has to offer.

Full 8-hour Tour With Morning Departure
This includes 2-3 hours of inshore fishing, 2-hour lunch and beach-combing adventure, ending with a 2-3 hour marine safari.
up to 4 guests per boat
$1200

Half-Day Inshore 5-hour Excursion
Your pick between dropping the rods in and fishing, or a marine wildlife safari, or a bit of both perhaps.
up to 4 guests per boat
$700

Adventure South
FULL 8-HOUR TOUR WITH A MORNING DEPARTURE
Let's circumnavigate Nootka Island(weather dependent trip). Cruise the open pacific to the historic site of Friendly Cove (Yuquot). Drawn by the rich sea life, mild climate, and the beautiful surroundings of Vancouver Island's West Coast, the First Nations people came to Friendly Cove (Yuquot) area over 4000 years ago. The abundance and diversity of the area also attracted the first European explorers. Yuquot was declared a National Historic Site and marks the first contact between Europeans and the indigenous people of the West Coast and was where Captain Cook set foot in March of 1778. While on site, check out the museum/church, hike along the coast of Nootka Island or check out one of British Columbia's last manned and still active light houses.
up to 4 guests per boat
$1295

Adventure North
FULL 8-HOUR TOUR WITH A MORNING DEPARTURE
Cruise the rugged and remote Esperanza Inlet and Nuchatlitz Inlet region. Rich in native culture and history, this being the traditional territory of the Nuu-chah-nulth First Nation, who inhabited these lands for thousands of years. These sites include ancient burial sites on and around Nootka Island, located in caves just off the beach. Rafts of Sea Otters are very abundant here, along with dozens of small islands and beautiful rock formations to explore. Enjoy a picnic lunch on the beach while beach combing and seeing what the last tide brought ashore.
up to 4 guests per boat
$1200
* These are all private charters. We do not place you with other groups
Experience the breathtaking scenery and wildlife that Vancouver Islands West Coast has to offer.
This add-on package allows guests to have full access to our main lodge grounds and includes a culinary experience so you can sit back, relax, and focus on the nature at our doorstep. Fresh west coast fair from our land and sea makes this no ordinary place, so do not expect ordinary cuisine. We are grateful to have an array of delectable food sources at our fingertips. Prawns, clams, oysters, and a variety of fish are found locally along our shoreline and in our waters. Whether you are enjoying an appetizer by the fire or your first taste of a fresh spot prawn, you are sure to revel in the indulgences of our Chef.
Our dishes emphasize clean, fresh flavours based on locally caught seafood, foraged plants and berries and BC raised meats. Some of our produce is grown in-house otherwise it is sourced from select nearby sustainable farms when possible. Simply sit back, relax, and enjoy the surprise of what is being served next.
Note: our meal package does not include alcoholic beverages however you are more then welcome to bring your own.
Zeballos Oceanfront Lodge welcomes you to the premiere salmon and halibut fishing lodge located at
the gateway to Nootka Sound, in British Columbia, Canada.
Full and half day trips available. See Marine Safari's for half day options. A BC salmon fishing trip is your next great adventure! Our salmon fishery is second-to-none on the west coast of British Columbia. Our lodge is located on what they call, "The Salmon Highway", where the continental shelf comes closer to Vancouver Island, than anywhere else on the coast. This funnels all south migrating salmon to our specific location, at the base of the funnel. This prolific fishery gives us access to dozens of different runs heading to their home rivers through our entire fishing season. The result is simple, it means you won't hear us say, "you should have been here yesterday."
Up to 3 Guests
$1400
Up to 4 Guests
$1500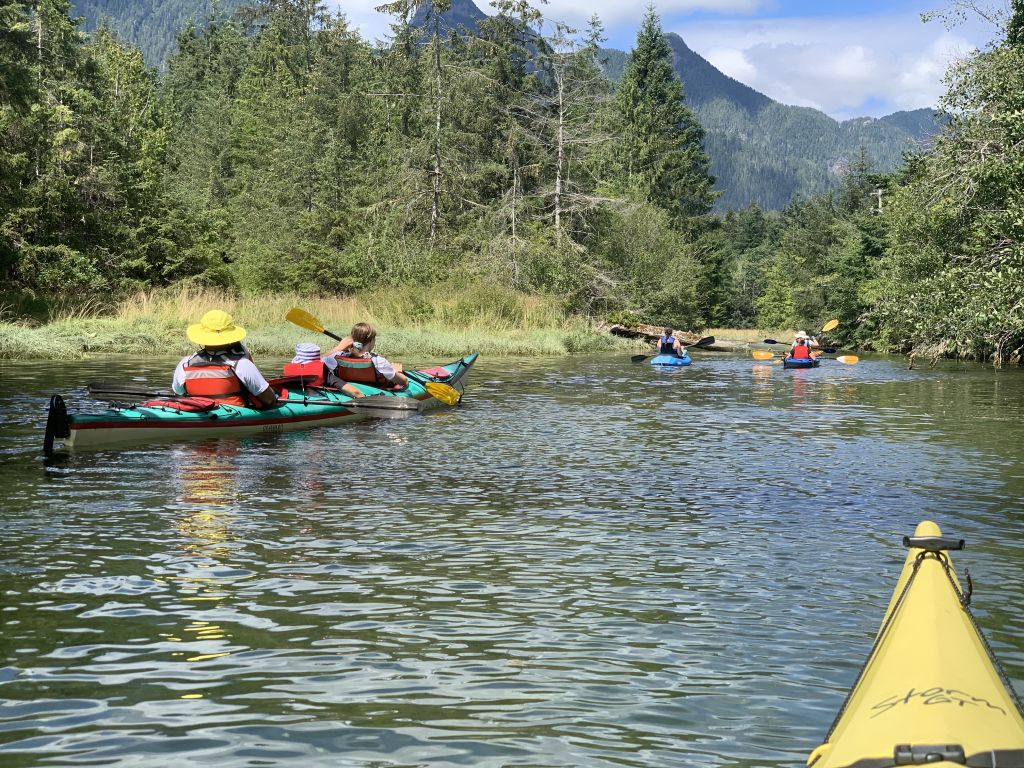 Explore the wilderness by kayak! With notice, self-guided Kayak rentals are available. The Zeballos area is surrounded by protected lagoons and inlets, providing a safe paddling experience for the novice kayakers.
Rates
In support of another local business in town, Zeballos Expeditions is where we will organize and locate your kayak rentals for you.
$50/day singles
$280/week singles
$80/day doubles
$400/week doubles
All kayak rentals include:
Personal flotation devices (PFDs)
Spare paddles
Spray skirts
Pumps
Sponges
Tow rope
Paddle floats
Bird Watching and Photography
With the Zeballos estuary seen from the view of our lodge dining room you don't have to go far to begin
looking!
Within a very short walk from our lodge grounds, there are multiple estuary sites where you can take cover and observe a great variety of birds. Bald eagles, Great Blue Herons, Kingfishers, a variety of ducks can be viewed. Step a little further off the beaten path towards the open pacific on one of our marine safaris and a variety of sera birds can be added to the list.
A field guide is important for identifying those not so common birds encountered. One of the best work available is the National Geographic Society's Field Guide to the Birds of North America. This is the standard guide used by most expert birders and is generally the bible of the birding fraternity. It contains all you need to observe birds in North America… excellent colour paintings of all the species with male/female/immature plumages. We have guides and binoculars available for those who are interested in taking a look but may not have their own equipment. Binoculars and or a spotting scope are important for identifying and enjoying the true colours and definition on those animals in the distance.
With the Zeballos estuary seen from the view of our lodge dining room you don't have to go far to begin
looking!
Vinny's Trails – this walk takes you through the tranquil Zeballos River Estuary. It has been designated as a Wetland Reserve by the Ministry of the Environment and the Nature Trust of BC. A beautiful loop that winds oceanside, through lush forest, and into the Zeballos River Campground. This is a bird watchers paradise. Along the way songbirds, blue herons, bald eagles, and a variety of other spectacular west coast birds and fauna can be seen and if you are patient enough, photographed.
The River Loop – this walk starts with a short 10-minute walk through town across the bridge and along the Zeballos River. The whole walk from the lodge may take about 30 minutes. For those a bit more adventurous, you can continue up through the river's canyon until you find a scenic spot to throw the river rod in and perhaps enjoy a quiet riverside luncheon all to yourselves.
Little Zeballos Trail – this one will require some water, snacks, and a backpack. The whole hike is 10km. You can either choose to do the entire walk or you can turn back at any time. The first 1.5km is along the Zeballos inlet shoreline where you will gain elevation and crest the mountain on the east side of the village. You will have some great views from a few spots along here where you will enjoy the view of the village and mountain side. The trail then leads to an old FSR and active quad trail which takes you over to the serene and picturesque Little Zeballos area.
Tatchu Point Hike – This scenic hike will take you to beautiful beaches and through lush old growth forests. You are more likely to see a coastal wolf, black bear, or black tail deer than another person. The starting point is Port Eliza so a water taxi is needed to get there from Zeballos. This trip is about 45minutes from our Zeballos dock. Guided or unguided options available. You can make this a full day adventure or turn it into a 3 or 4 day hike. The trail goes all the way to Rugged Point Marine Provincial Park. Rugged Point has some of the most beautiful stretches of coastline on the west Coast of Vancouver Island. Protected by the barrier Islands, this stretch of coastline is magical and is a must see.